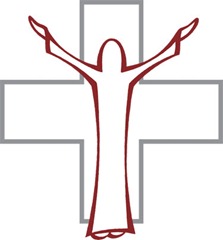 The text that I have chosen for Don's funeral comes from 1 Thessalonians 4:13-18.
13 But we do not want you to be uninformed, brothers, about those who are asleep, that you may not grieve as others do who have no hope. 14 For since we believe that Jesus died and rose again, even so, through Jesus, God will bring with him those who have fallen asleep. 15 For this we declare to you by a word from the Lord, that we who are alive, who are left until the coming of the Lord, will not precede those who have fallen asleep. 16 For the Lord himself will descend from heaven with a cry of command, with the voice of an archangel, and with the sound of the trumpet of God. And the dead in Christ will rise first. 17 Then we who are alive, who are left, will be caught up together with them in the clouds to meet the Lord in the air, and so we will always be with the Lord. 18 Therefore encourage one another with these words.
Here ends our text.
Donna, Gail, family and friends of Don, funerals and grief go together. Sadness and bereavement are normal when a loved one dies; but there is a significant difference in the type of grief evidenced at funerals.
On the one hand, there are many funerals where the sorrow of the bereaved is inconsolable, where widows or widowers and children of the deceased weep and lament without hope. Nothing anyone says or does can dispel their grief. On the other hand, at Christian funerals, the bereaved also experience great sadness, but mixed with their sadness is their Christian hope, which enables them to dry their tears and even smile in the midst of their sorrow.
St. Paul speaks of this significant difference in grieving when he writes in the words of our text, "We do not want you to be uninformed, brothers, about those who are asleep, that you may not grieve as others do who have no hope." The apostle goes on to say that believers in Christ, by contrast, grieve with hope! This hope is expressed in the closing words of the Apostles' Creed: "I believe in . . . the resurrection of the body, and the life everlasting. Amen."
Today, as we come together in a time of grief, we remember a father, a friend who is no longer with us. To say that we are saddened is an understatement. We know that death is that unnatural natural, a result of man's sin. As we see a loved one advance in age, see their health begin to deteriorate, we begin to try to mentally prepare ourselves for that day that our Lord calls our loved one home, but it doesn't make it any easier when it happens. There is no way that we can truly prepare ourselves for the moment of death, but there is One who does and has prepared us for death: our Lord and Savior, Jesus Christ. Our Lord came into a sin-broken world in order to make things right once again with God. Because of Don's sin and the sin of the entire world, our Lord took on human flesh so that He could live the perfect life that Don and we could not. Our Lord went to the cross, taking Don's sins and ours with Him so that we would not have to bear them. Our Lord died the death that was meant for Don and us and in turn, gave to us the gift of forgiveness of sins, life, and salvation.
We grieve with hope because we do not have to fear death. There is probably nothing in life that people fear more than death. This fear is demonstrated in the fact that we avoid the noun death and the verb die. In medical circles, a patient doesn't die; instead, he or she "expires." In daily conversation, we often employ the euphemism "passed away" rather than say that a person has died. But for us believers in Christ, we need not fear death. In fact, we embrace death when it comes because we know that death is not the end, but rather, it is eternal life in heaven with God our heavenly Father. That is the joy that Don now experiences. He is enjoying that everlasting life where there is no sickness and no pain. He is enjoying that everlasting life with those who have departed this life in the faith, including his wife Elsie and his son Donald.
We turn to the words of Jesus for our comfort at death: "I am the resurrection and the life. Whoever believes in me, though he die, yet shall he live, and everyone who lives and believes in me shall never die." For those who trust and believe in Jesus Christ for forgiveness and life, death is but the door into heaven. By His death and triumphant resurrection, Jesus has made complete payment for all sins, including that of Don. And so now our departed brother rests from his labors in the fullness of heaven.
St. Paul uses the wonderful language of those who have "fallen asleep." What a wonderful experience sleep is, especially if one is tired after a long day of work. That is what happened to Don early Sunday morning – he fell asleep in Jesus. I'm sure that in the last days of Don's life when he knew that his life was coming to an end, he did not fear death because he knew what was in store for him – he knew he was going to receive the crown of life. Don had great faith in the words of David: "Even though I walk through the valley of the shadow of death, I will fear no evil, for you are with me; your rod and your staff, they comfort me." When St. Paul refers to death as a sleep, he is saying in a very powerful way that you and I who believe in Jesus do not have to be afraid of death any more than we are afraid of falling asleep at the end of the day.
Today, we grieve with hope because we can look forward to eternal life. This was something that Don was very sure of for a very long time. He knew that on account of what Christ had done for him and not what he had done, that he had been granted that gift of the forgiveness of sins and that he would receive everlasting life. I know Don believed that because he spoke so fondly of what Jesus had done for him. For you, his children, he wants you to know that as well. Because of Jesus Christ and His life, death, and resurrection, all of your sins, past, present, and future have been forgiven. They have been atoned for and you have been declared not guilty.
We who believe in Jesus Christ do not grieve without hope because Christ our Lord gives us hope because He gives us everlasting life. And what a glorious day that will be for us when God our heavenly Father calls us to Him, just as He did for Don on Sunday. As St. Paul says, "…and so we will always be with the Lord." In these coming days of grief and sorrow, know that you will always have at your side a Lord who cares for you. This is His promise to you: "And behold, I am with you always, to the end of the age." Know that the Lord's care for you gives you power by God's grace to wait for that great reunion of the saints when Christ comes in glory.
I leave you with these words of the psalmist David: "Cast your burden on the LORD, and he will sustain you; he will never permit the righteous to be moved." As you grieve, grieve as those with hope, because that is exactly what you have. Trust in God, grateful for the earthly life that he has granted to Don and the many memories we have. Rejoice in knowing that now he lays safely in the arms of Jesus, who is our good shepherd. Amen.