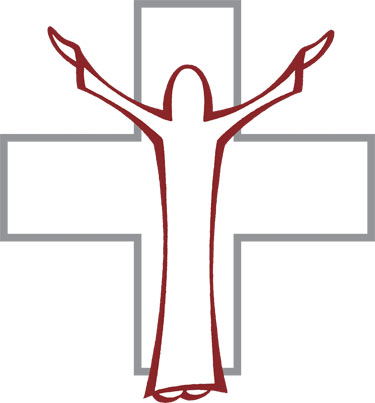 The text that was chosen for John's funeral was Psalm 139.
1 O LORD, you have searched me and known me! 2 You know when I sit down and when I rise up; you discern my thoughts from afar. 3 You search out my path and my lying down and are acquainted with all my ways. 4 Even before a word is on my tongue, behold, O LORD, you know it altogether. 5 You hem me in, behind and before, and lay your hand upon me. 6 Such knowledge is too wonderful for me; it is high; I cannot attain it. 
7 Where shall I go from your Spirit? Or where shall I flee from your presence? 8 If I ascend to heaven, you are there! If I make my bed in Sheol, you are there! 9 If I take the wings of the morning and dwell in the uttermost parts of the sea, 10 even there your hand shall lead me, and your right hand shall hold me. 11 If I say, "Surely the darkness shall cover me, and the light about me be night," 12 even the darkness is not dark to you; the night is bright as the day, for darkness is as light with you.
13 For you formed my inward parts; you knitted me together in my mother's womb. 14 I praise you, for I am fearfully and wonderfully made. Wonderful are your works; my soul knows it very well. 15 My frame was not hidden from you, when I was being made in secret, intricately woven in the depths of the earth. 16 Your eyes saw my unformed substance; in your book were written, every one of them, the days that were formed for me, when as yet there was none of them.
17 How precious to me are your thoughts, O God! How vast is the sum of them! 18 If I would count them, they are more than the sand. I awake, and I am still with you.
19 Oh that you would slay the wicked, O God! O men of blood, depart from me! 20 They speak against you with malicious intent; your enemies take your name in vain. 21 Do I not hate those who hate you, O LORD? And do I not loathe those who rise up against you? 22 I hate them with complete hatred; I count them my enemies.
23 Search me, O God, and know my heart! Try me and know my thoughts! 24 And see if there be any grievous way in me, and lead me in the way everlasting!
Here ends our text.
To the untrained eye, the scene today looks disturbing. Instead of gathering together for a joyful occasion, we gather today to mourn. Death has won again and taken a husband, father, brother, and friend. Or at least, that's what the untrained eye sees. For the trained eye, we see something completely different.
Some of the facts remain the same: we gather today not just to mourn, but to also rejoice. Death has indeed taken a husband, father, brother and friend, but death has not won. As the hymn says, "Jesus lives! The vict'ry's won! Death no longer can appall me; Jesus lives! Death's reign is done! From the grave will Christ recall me. Brighter scenes will then commence; This shall be my confidence."
I can't take credit for selecting our text today; John did that, along with everything else. I can see why this psalm was such a favorite of his. This psalm is a psalm of thanks that praises God that He has provided for David so wonderfully and still reigns in all of His works, words, and thought. Whether David stands, walks, sleeps, or wakes – yes, even in his mother's womb, before he was made – God has been with him as he was being formed and will be with him as long as he lives. John did as any of us should be able to do – substitute our name in the place of David, for God indeed watches over and provides for us from before we are born to our death and after. That fact held true for John as well. From the moment of his conception, God was watching over him. When he was brought to the waters of Holy Baptism, God was there. Throughout all the days of John's life, God was there with him. And Friday, when John breathed his last breath, there stood God with open arms to receive His beloved child. The words John heard are words that all believers will hear on the day that God calls us home: "Well done, good and faithful servant."
If John were here right now, he would make the point himself that he wasn't good. He might have been a good person to know, he might have done good things throughout his earthly life, but none of that mattered. All the good that John did in this life didn't score him any brownie points with God. He never did anything "good" for personal gain, but rather to benefit his neighbor, whether he knew who his neighbor was or not. He knew that nothing he could ever do would get him brownie points with God. He knew that none of his good works would earn him an ounce of salvation and he would be the first to tell you that. In order for John to receive salvation, in order for any of us to receive salvation, it doesn't depend a single bit on what we do. It depends solely on what Jesus Christ has done for us.
How fitting it is for John to have fallen asleep in Christ when he did. Right now, the Church observes the season of Lent, a penitential time where we reflect and prepare for what Christ does for us. In just a couple of weeks, we will see Jesus ride triumphantly into Jerusalem, with the people shouting praises as He enters. We will see Jesus give to His disciples, and in turn the entire Church, His very body and blood for the forgiveness of sins. And in just hours after that, we will see Jesus go to the cross. And while we cringe when we hear of His Passion and what Christ endured before His death, we look forward to what happened just three days later, when Christ burst from death's tomb as the Victor over sin and death. With His death, He took with Him John's sins, and there were many, as he would recount week after week in the Church's confession. But he knew that he had forgiveness, not because of what he did, but because Christ had washed those sins away in Baptism, because Christ had taken any and all sins of John to the cross and gave to him the crown of eternal life.
David writes in his psalm, "I praise you, for I am fearfully and wonderfully made. Wonderful are your work; my soul knows it very well." Those are words which meant something to John, words that were wonderful to hear, because by Jesus' work was what saved John. He could be content in knowing that God sent His Son Jesus to save him from all his sins.
From some of the stories John told me and from the years that I knew John, he had a way of getting himself into trouble. Sometimes it meant receiving some sort of punishment from his father or running to his mother to avoid said punishment. He knew when he got in trouble and though he tried to avoid the punishment, it often caught up to him. So it was with his death. Death is inevitable for each and every one of us. St. Paul makes that clear when he says, "For the wages of sin is death, but the free gift of God is eternal life in Christ Jesus our Lord." John knew that when he got in trouble with his sin, which was everyday of his life, he knew whom he needed to run to. He would run to Jesus, for he knew that only in the arms of Jesus would he be able to get out of his sinful trouble. He knew that the only thing he could do was sin and sin and sin some more. But through the blood of Jesus Christ that washed his sins away, He could emerge the victor.
Reflecting on St. Paul's words, they ring ever true for John. He writes, "We know that our old self was crucified with him in order that the body of sin might be brought to nothing, so that we would no longer be enslaved to sin. For one who has died has been set free from sin. Now if we have died with Christ, we believe that we will also live with him." Though John has died an earthly death, he enjoys a new life in Christ Jesus, one free from sin, one free from cancer. He has been transferred to the Church Triumphant, where he rests from his labors.
During the last few days of John's life, he was plagued with worry, even doubt at times. He asked on more than one occasion why God hated him because he was still here. I told John that God did not hate him, but I didn't know why he was still here, other than the fact that it was not time for God to call John home to heaven yet. David answers John's question. He says, "Your eyes saw my unformed substance; in your book were written, every one of them, the days that were formed for me, when as yet there were none of them." John's days were numbered, just as are each of ours. While God created us to live with Him forever in the Garden, through sin we now have death, cutting short those days of forever. But though we live a certain number of days on earth, through Christ will live with God forever in heaven.
David has a perfect ending for his psalm, an ending that asks for something from God. David could have asked for anything from God, and yet he doesn't; he asks for something not of this life. He writes, "Search me, O God, and know my heart! Try me and know my thoughts! And see if there be any grievous way in me, and lead me in the way everlasting." For David, just as for John, and just as for you and me, there is a grievous way in us. That grievous way is called sin. Sin, as we see this morning, leads to death. But God did not leave David in that state, nor did He leave John in that state, nor does He leave us in that state. He leads us in the way of everlasting life.
For you, Lee and family, while you mourn today, there is cause for rejoicing, for John now rests in eternal glory, waiting for us all to join him and all who die in the faith. Amen.