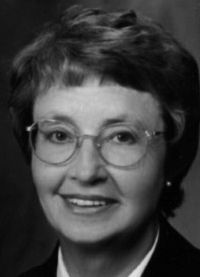 The text I have chosen for Jean's funeral is from Mark 13:32-37.
[32] "But concerning that day or that hour, no one knows, not even the angels in heaven, nor the Son, but only the Father. [33] Be on guard, keep awake. For you do not know when the time will come. [34] It is like a man going on a journey, when he leaves home and puts his servants in charge, each with his work, and commands the doorkeeper to stay awake. [35] Therefore stay awake—for you do not know when the master of the house will come, in the evening, or at midnight, or when the rooster crows, or in the morning—[36] lest he come suddenly and find you asleep. [37] And what I say to you I say to all: Stay awake."
Mark, Brian, Dean, Beth, Chuck, and Jane, family and friends of Jean: it isn't fair, is it? It's not fair that we should be gathered here like this twice in a year. February, we mourned the death of Dick but also rejoiced that he earned the crown of life from Jesus, our Savior. Today, we mourn the death of Jean, but we also rejoice that her earthly life with all its pains and suffering has ended and that she too rests in the loving arms of her Savior. But even with that being said, it's not fair, is it? It's not fair that we should have to mourn the death of Jean or anyone for that matter. But because of sin, life isn't fair. Life doesn't go the way that we think it should go, and today only proves that fact.
When God created all things, life was better than fair, it was perfect. Man had all they needed. Man walked with God. Man was perfect. Life could not be any better than that. Because of what happened in the Garden, because of man's fall into sin, life is no longer fair. Life now has something that was never meant to be – death. Death is a reality for all people as St. Paul says, "For all have sinned and fall short of the glory of God…." And with sin, it brings death: "For the wages of sin is death…."
Death is the new reality because of sin and it's not fair. It's not what God wanted and it certainly isn't what any of us want, but it is the reality in which we live in. But thankfully for us, we have a God who is not content with death. He made a promise to Adam and Eve once they sinned that He would send forth One who save them from their sins, One who would undo all that death has brought into creation.
In just a few weeks, we will celebrate Christmas, the birth of our Savior. By His coming into the world through the manger, He prepares for His ultimate journey to the cross. With His journey to the cross comes for us our forgiveness, something that Jean had, something that Jean cherished with all her heart. It meant that in her baptism, God had called her His beloved child and gave to her the gift of faith. It meant that on account of Christ, she received the forgiveness of all her sins without any work or action needed on her part. It meant that one day, she would be able to stand before God and hear Him declare, "Well done, good and faithful servant."
A few weeks ago when visiting Jean, things didn't look good for her. It had been several days since she had eaten anything. She had an infection that the body was trying to fight off, she was all-around weak. The words from Mark 13 served as my devotion with her. Christ had promised that He would come again in all His glory. The only problem is the people of Jesus' day did not know when that time would come. Jesus explained that no one in all of creation knows when He will return; not the angels nor Jesus Himself. And so His word of caution for us is "Stay awake."
It's hard for us to stay awake as Jesus cautions us. It's hard for us to do as Jesus tells us because the world tells us just the opposite. We don't need Jesus when we are able to save ourselves. We don't need Jesus when we are able to following a multi-step program that will give us all the earthly blessings we could ever imagine, as if this is the most important thing. The world is quick to tell us that Jesus isn't all that when it comes to our salvation. But teachings like that will do nothing to earn us salvation but earn us damnation.
When we place our trust of salvation in anyone or anything other than Jesus Christ, then there is nothing but damnation. That is what Jesus warns us of during His life. We need to stay awake, to be alert. Know that Jesus is returning and live in His forgiveness and grace. Know that the cross was about making us ready to stand before Jesus. Know that God draws close to keep our hearts ready for that great and awesome day that is coming. Know that God has more at stake in us being ready for the end of time than we have. He sacrificed His one and only Son on the Cross to make us ready!
God has made Jean ready. She was made ready when she was baptized. She was made ready when she heard her sins were forgiven. She was made ready when she received the very body and blood of her Savior. Notice how she was made ready. She was made ready by the work of God, Father, Son, and Holy Spirit. None of this was by her doing and works. She knew that it never could be. That's why she looked to Christ for her salvation, because she knew that she was a sinner and was incapable of saving herself.
That is the reality we all face. We are all sinners. We are conceived and born in sin. Our sin gets us death, always has and always will. It is only by Jesus that we are forgiven and made ready to stand before God.
You and I do not know when Christ our Lord shall return. Because of that, we are to be ever vigilant – waiting and watching and anticipating our Lord's return. Jean did not know when her heavenly Father would see fit to call her home unto Him. That's why the words of Psalm 39 ring all the more true, not just for Jean, but for us all: "O LORD, make me know my end and what is the measure of my days; let me know how fleeting I am! Behold, you have made my days a few handbreadths, and my lifetime is as nothing before you. Surely all mankind stands as a mere breath!"
For Jean, she has died, she has left this veil of tears, but that's not the last we shall hear of Jean. Christ has died for her and now she lives with Christ, her Lord. It is true that one day, all of us who are gathered here today will die as well. And because of Christ, the Babe of Bethlehem, He has come to bring us unto Him. We heed the words of Christ our Lord, just as dear sister Jean did: "And what I say to you I say to all: Stay awake." We stay awake, ready for Christ our Lord to take us unto Himself, giving to us the crown of eternal life. Amen.