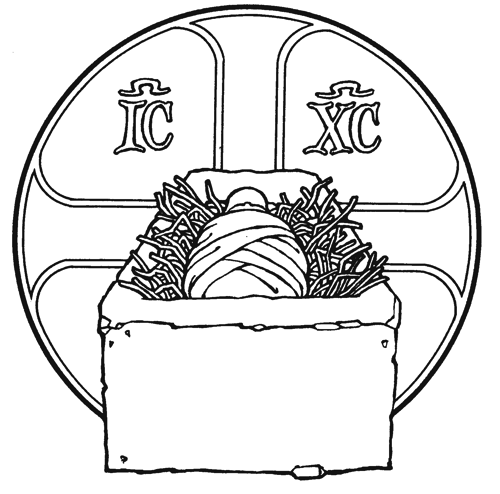 Grace, mercy, and peace to you from God our Father, and from our Lord and Savior, Jesus Christ, amen. The text for the sermon is the Gospel, which was read earlier.
In a sermon for Christmas Eve, Martin Luther writes the following: "It is written in Haggai 2[:6, 21] that God says: "I will move the heavens and the earth when he will come whom all people desire." This has been fulfilled today. For the heavens, that is, the angels who are in heaven and who were praising God with their song, and the earth, that is, the people on earth, were moved." That is precisely what happened on that fateful night all those years ago in a little town called Bethlehem.
As Joseph takes his betrothed wife Mary with him to Bethlehem for a census. This was the first of such kind under Quirinius, governor of Syria. The purpose of this census was for taxation purposes, as well as enrollment in the military. During this time, it was time for Mary to give birth to her firstborn child, a Son. As we hear from St. Matthew's account, we know this child of Mary is none other than Jesus, the Son of God.
Everything has been insignificant so far. Mary is an insignificant young girl from Nazareth. Joseph was an insignificant carpenter. They end up in the insignificant town of Bethlehem. Even worse, they find themselves in an insignificant house because there was no room for them anywhere. But everything about this night would be far from insignificant.
When Christ is born, He was born in a lowly place to lowly parents. He was wrapped in simple cloths and laid in a lowly manger, nothing more than a trough. And while the birth of yet another child in Bethlehem seems insignificant, all of creation is about to change.
Some distance away, lowly shepherds were out in the fields tending to their flocks. Suddenly, an angel appears overhead with a simple message: "Fear not, for behold, I bring you good news of great joy that will be for all the people." Good news. Good news for all the people. What an understatement! The word "good news" is translated as "Gospel." That is what we receive, the Gospel, the good news of Jesus Christ. But it is more than just good news. It is incredible news! It is outstanding news! It is fantastic news! This is the news of man's salvation!
When I say this is the news of man's salvation, I mean all of creation. I mean personally for you, insert name here. The angel declares, "For unto you." The angel means that this babe lying in the manger has come for you specifically. It means that the babe lying in the manger has come for you in order to redeem you personally of all of your sins. More importantly, not only has this babe come for you personally, but He has also come for all people of every time and place, of every tribe and race. It means that this newborn babe has come for not only for the Jews, but it means that He has come for the Gentiles as well. It means that He has come for the least likely to be saved. That means that He has come for lowly sinners like you and I in order to redeem us, to buy us back.
The message of the single angel wasn't enough to convey what God was doing. "And suddenly there was with the angel a multitude of the heavenly host praising God and saying, "Glory to God in the highest, and on earth peace among those with whom he is pleased!"" All of heaven breaks out in joyous chorus for this momentous event of our Lord's birth, and rightly so. The joyous song of the angels is the joyous song of all of creation, because Christ is for all of creation.
When the shepherds arrived to see the baby Jesus, what is it you think they saw? A baby? Yes, but more than just a baby. They saw the Savior of the nations foretold of long ago. They saw their means of salvation, and not just their salvation, but also the salvation of all of mankind.
Just what takes place in the manger is nothing short of a miracle. We see here how Christ, as it were, takes our birth from us and absorbs it in His birth, and grants us His, that in it we might become pure and holy as if it were our own, so that every Christian may rejoice and glory in Christ's birth.
This is indeed great joy that the angel speaks of to the shepherds. This is the comfort and exceeding goodness of God that, if a man believes this, receives the peace that the angel declares, a peace among those with whom God is pleased. In this case, that is us. We, the chosen ones, have God's peace. This is a peace beyond understanding, a peace that is always with you. It is the peace that Christ purchased for you, the peace of knowing that your Brother is God's own Son, and therefore all will be well with you. Christ takes care of His family, so He will take care of you. He has already purchased forgiveness and eternal life for you. He will not forget about you or let you slip through the cracks. You are His own.
Following this miracle in creation, Luke records, "And the shepherds returned, glorifying and praising God for all they had heard and seen, as it had been told them." Notice what these shepherds do after hearing the Good News and after they worship Christ in His presence—they return out into the world; the same world that shunned them.  They return to their vocations, and they glorify and praise God for all they have heard and seen, making known to everyone what had been told to them and what they themselves had witnessed and beheld and were a part of.
How difficult must it have been to return to your sheep after hearing such a message and then seeing that message fulfilled? How will you respond to the joyous message that you have heard of our Lord's birth? For some, the message doesn't compute because Jesus isn't the means of salvation. He might be a means, but not the means. For the millions of believers in Christ, tonight is the culmination of much wishing and hoping and waiting. Christmas means that what we yearn for has already come, is here right now: God is present, with us, with an everlasting love in each and every moment of our lives, whether we perceive those moments as good or bad.
The time has come for us. In Jesus, God has entered our world where we are born and die, work and play, love and dream. Let this Christmas time fill our lives with the knowledge that all our days are in God's hands. Since God joined us in our pain and disappointments, and knows our weakness and death, then let this Christmas time bring us strength, knowing that God's love is stronger than death, and God is able to bind up all our wounds. Since the time has come and God has rescued us from the sin that enslaves us – from the destruction we do to ourselves, to others, and to creation itself as a result of our sin – let this Christmas time fill us with the will to love and care for all, just as God has come to show love and care for us sinners in our great time of need. Since the time has come and God has visited His people, let us join Mary and Joseph, the shepherds and angels, and all believers everywhere this night to glorify and praise God for the gift of salvation that comes in the form of a babe named Jesus. In the name of Jesus, amen. Now the peace of God that passes all understanding, keep your hearts and minds through faith in Christ Jesus, amen.