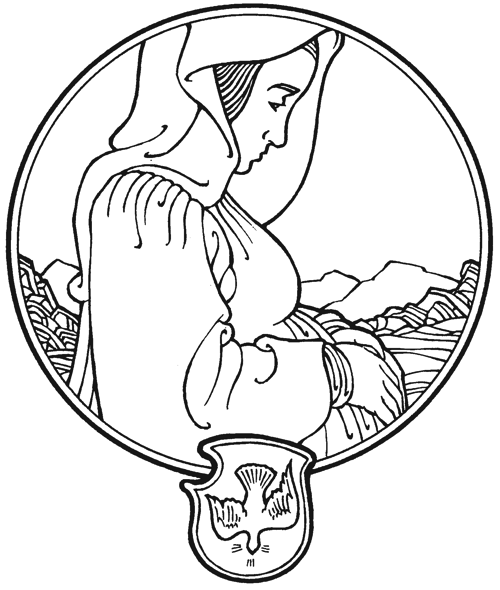 Grace, mercy, and peace to you from God our Father, and from our Lord and Savior, Jesus Christ, amen. The text for the sermon is the Gospel, which was read earlier.
Children are such a blessing, truly a gift from God. We invest so much time and effort and love into our children. That is often true when it comes to our biological children, but what about when you are a step-parent? Does that mean that you love and care for them any less since they are not your own? Surely not, for you they are much your children as our your biological children.
On this Christmas Eve, we hear of the angelic visitation to Joseph. Joseph was betrothed to Mary and things could not be better. They were going to be married and what a happy and joyous day that would be when they would become husband and wife!
What would be a joyous time for Joseph and Mary was cut short with a startling revelation – Mary, Joseph's betrothed, was pregnant. Before you say that congratulations are in order, there's something that you need to know – this is not Joseph's child!
This was a devastating revelation to Joseph, to hear that your betrothed wife has had sexual relations with another man.  And because she had sexual relations with a man other than her betrothed, the law dictates that she must be put to death, along with the man who impregnated her. Despite what had transpired, Joseph loved his bride to be. He didn't want to see any harm come to her, let alone see her put to death. So Matthew records that Joseph, "being a just man and unwilling to put her to shame, resolved to divorce her quietly." This was not an ideal solution, but it meant sparing her life and the child's life as well. Mary, the girl Joseph loves, is promised to him but not yet married to him. And now Joseph learns that she is pregnant. She may have tried to convince Joseph that this pregnancy was in fact a gift from God, but Joseph could not see it that way. How could he? What could possibly have prepared him for the events that were happening to him now? What can prepare a person to believe and accept something that has never happened before and will never happen again?
See the anguish in Joseph's heart! He knows the law requires Mary be put to death. He knows his broken heart does not want to see harm come to Mary or to the child she carries. And so he makes the decision: he will divorce her quietly, not exposing her to public shame or even worse punishment, not forcing her to repeat to anyone else her unbelievable explanation of what happened. And with that, Joseph retires to bed.
What might have seemed cut and dry with regards to Mary's infidelity was made complicated by what happened to Joseph: "But as he considered these things, behold, an angel of the Lord appeared to him in a dream, saying, "Joseph, son of David, do not fear to take Mary as your wife, for that which is conceived in her is from the Holy Spirit. She will bear a son, and you shall call his name Jesus, for he will save his people from their sins.""
Mary was not unfaithful. Joseph was not going to divorce Mary. Instead, all was according to God's plan: "All this took place to fulfill what the Lord had spoken by the prophet: "Behold, the virgin shall conceive and bear a son, and they shall call his name Immanuel" (which means God with us)."
Everything has happened as has been foretold: David's line, virgin birth, Bethlehem. Jesus is the name given to this child by God through the angel. This child truly will be what His name claims: a Savior, for He will save His people from their sins. As important as that is, and it is the very heart of the Gospel, remember what will happen to this Jesus as He grows up and begins to carry out the work that His Father has given Him to do. The people around Him will say that one day, God will indeed come and save His people. But surely He won't look like an ordinary man.
The only way we can understand how it is that this man Jesus of Nazareth is true God is by remembering that this man is also rightly called by another man, Immanuel. He is "God with us." God comes to save us from our sins by becoming one of us and taking our sins upon Himself. God's loving righteousness will set all things right in a way that is both perfect righteousness and perfect love. He will not destroy His creation and begin anew. Neither will He allow us to perish in our sins. He will come to be with us, to be one of us. He will become man. And He does this, comes as Immanuel, when He comes in the person of Jesus Christ.
All this He does because of two reasons: first, we are His beloved creation. God will go to hell and back for His creation and He does so in Jesus. Secondly, it's because we are sinners that He goes to such great lengths. We are indeed sinful and under God's judgment. The name of Jesus does not deny that; rather, it makes it very clear, as His name means "the Lord saves." But even as it's reminded us of our need for a Savior, the name Jesus promises us that in this one we find that needed Savior. These are the "wonders of his love" that we sing about when we celebrate this Child's birth.
This Son born to Joseph and Mary is the Son born to all creation, to you and to me. It is the Son born to live a sinless life in your place. It is the Son born to die in your place. It is the Son born to be raised from the dead. My friends, this Child whose birth we celebrate is like no other child that ever has been, is, or ever will be. This is the very Son of God made flesh for you. This is the very Son of God who came to take your sins upon Himself. This is Jesus, the Lord saves. Jesus came into the world not merely to save one particular people or race. He came to save the crowd, the whole crowd, all the people, the people as a nation. He came to save you. He is the Messiah that the prophet Isaiah had foretold hundreds of years before; He is Immanuel, God with us.
This is the true meaning of Christmas. It is not about receiving lots and lots of presents. It's about receiving one gift: Jesus Christ. It is not about receiving Christmas cards. It is about the message which the angel proclaimed to Joseph: "She will bear a son, and you shall call his name Jesus, for he will save his people from their sins." This echoes the words of Luther in his wonderful Christmas hymn, "From Heaven Above to Earth I Come." He writes: "This is the Christ, our God Most High, Who hears your sad and bitter cry; He will Himself your Savior be From all your sins to set you free."
As we grow nearer to the time of our Lord's birth, I'm sure there are more things we would like to do before Christmas morning arrives. But what is most important? What absolutely must happen to be ready not only for our homes and also our hearts for Christmas? There is only a single thing that needs to be done – receive the greatest gift that you will ever receive, the gift of the Babe of Bethlehem, Jesus Christ, amen. Now the peace of God that passes all understanding, keep your hearts and minds through faith in Christ Jesus, amen.